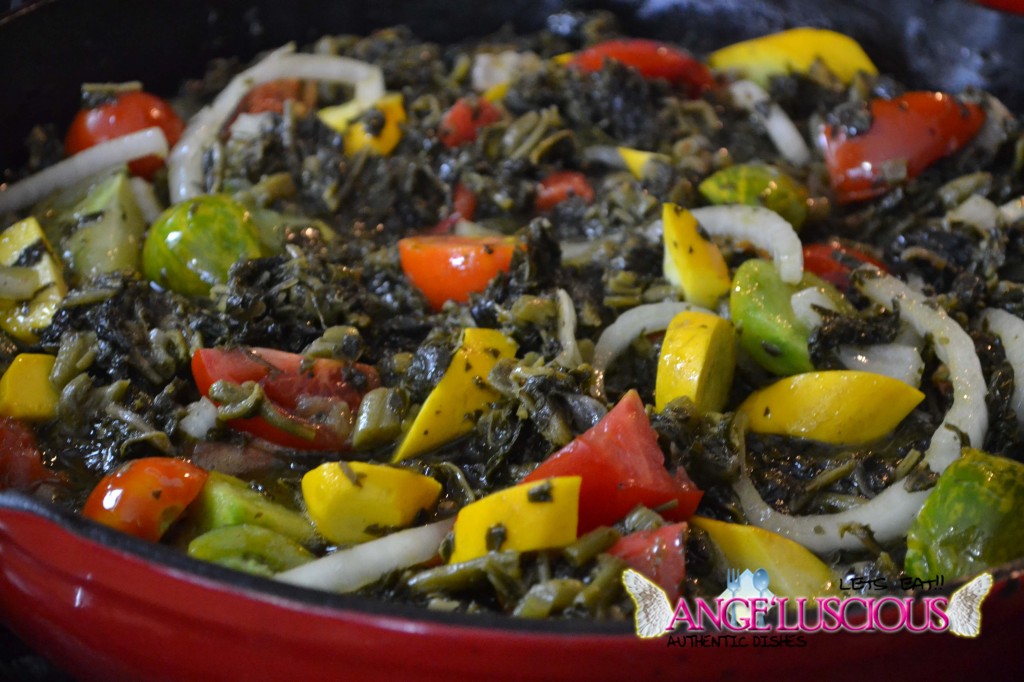 When my creative juices begin to flow, it's confirmation that I'm in the realm where I belong; as much as I belong in the realm that I'm in.  As I journey into another dimension, I'm inspired and visually stimulated while caught up in this serene rapture of heaven on earth. These glorious jewels are from the Hollywood farmers market, which serves as a reminder that my abundant blessing are in order. Food brings me joy.
Growing up in Jamaica, callaloo/amaranth was a staple in my home.  I enjoy steamed callaloo with tomatoes, scotch bonnet peppers and onions. I've come to the realization that lots of individuals  prefer callaloo with saltfish. Sometimes I feel as if I was the only person in Jamaica who was never fed callaloo with saltfish. Maybe my grandma or grandfather weren't fans either. My grandma can throw down, and as much as she incorporated salt fish into many other dishes, it just never made it's way into her pot of callaloo.  I truly believe that my gift of all things culinary  was inherited from her.
The farmers' market was beaming with callaloo, yellow squashes and those succulent, juicy heirloom tomatoes. They called out my name loud and clear. And I responded to the calling. Ye shall hear your calling and obey before you miss your God given birthright.  I always hear the calling for food.
What better way to put a healthy spin on my callaloo, than to add all these jewels for a more nutritious and satiating meal? If you plan on creating this combo, I strongly recommend fresh vegetables. Please, refrain from using the frozen squashes. Yellow squashes and many other vegetables loose their integrity when frozen. Have you ever wondered why most kids hate broccoli, cauliflower, carrots, and squash? Because their loving parents honestly thinks they are feeding them healthy foods but doesn't realize that it's just not the same when frozen. I like crunchy vegetables; cooked but still crunchy enough to enjoy. It's gotta have that bite to it.  If you really wanna get adventurous with callaloo, check out the other amazing recipes in my cookbook.
I've been limiting white processed foods (flour, rice etc) from my lifestyle. I've made the choice to get most of my carbs directly from the earth. I eat lots of ground provision and believe in the term "all things in moderation".  Boiled green bananas has the texture of boiled potatoes and pairs excellently with steamed callaloo. You can swap out the bananas for roasted sweet potatoes, butternut squash, pumpkin or any of your favorite ground provisions. If you have a weakness for dumplings, go ahead and add your dumplings. Never deprive yourself of the foods you love.
Just keep in mind …all things in moderation.
Still unsure how to cook callaloo? Here's a step by step video just for you!