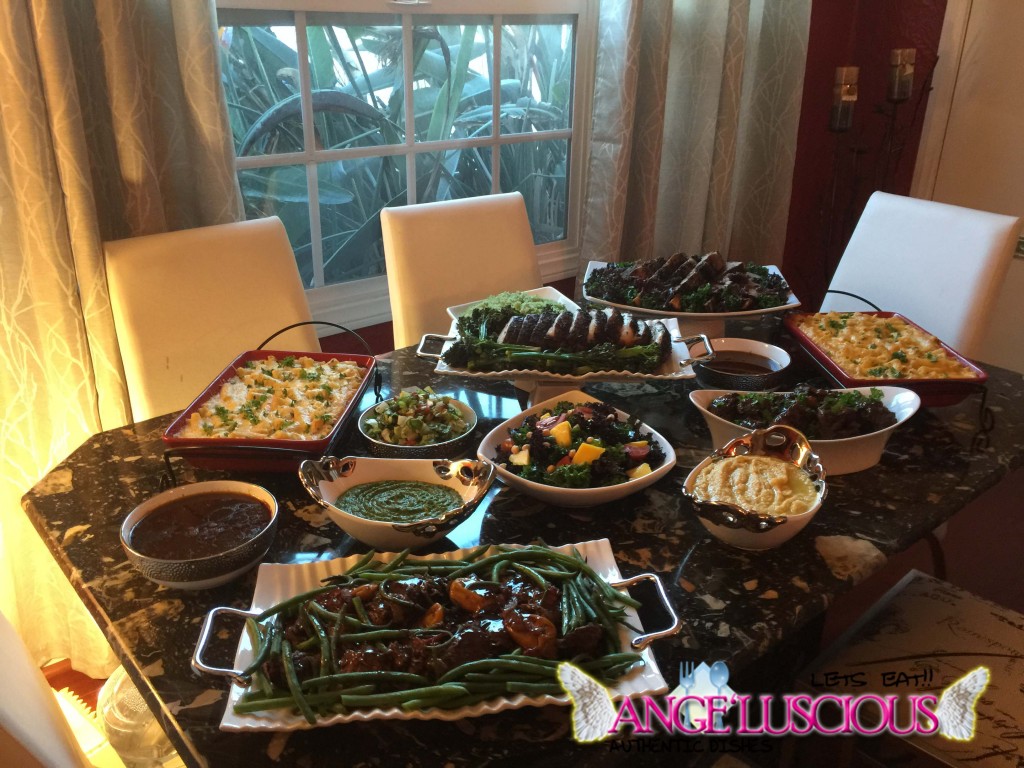 "Mom, what's on the menu for Christmas?"
"Well I wasn't planning on cooking too much. I'm gonna take it easy. I was thinking rib eye or rib roast."
"That's it? No ham? No crabs?"
"I'll cook some crab if you want but it's gonna be crab legs. I don't mind cooking the ham but I can't find any ham with NO NITRATES AND NITRITES."
"Check Whole Foods Market, they should have no nitrites ham."
The conversation between my son, Robert and I was a reminder that Christmas Day was only two days away. It had just dawned on me that I needed more greens, eggs, and a few other things. My deep freezer was good on meat, but I needed to find a ham with no nitrates or nitrites added. I created my shopping list:
Christmas Dinner
Onions (I go through onions fast)
Bell peppers (I love them roasted)
Jasmine rice (Robert's favorite)
Egg (just in cake I need more cakes or egg nog)
Ginger (always needed)
Olive oil (I needed to make my herbed oil)
Cheese:
Gruyere, pepper Jack, extra sharp, gouda
French Bread
Mushrooms
Tomatoes
I had everything else that I needed at home.
I went grocery shopping and scored! I found the no nitrates ham at Whole Foods Market, Yes!
I returned home and started prepping immediately. I rely heavily on herbs to add flavor to my food, so I chopped all the herbs that I intended to utilize. I also made a huge pot of herbaceous oil and set it to cool. Having just about every single kitchen gadget allows easy preparation of my seasoning blends. I'm finessing my own line of seasoning blends and can't wait to launch my creations. They are off the chain! Marinating your own foods with Ange'luscious seasoning blends, will be simple and satisfying. Without effort, I seasoned the oxtails and the pot roast. My rib roast and pork shoulder was still thawing, which meant I would have to deal with them in the morning.
At 5am Christmas morning I was up praying, chanting my affirmations and speaking blessings over my children and I. It's an everyday ritual for me.
I needed to charge my camera and spent an hour searching for the battery charger, which I had located in less than 5 minutes, but told myself that it was not the correct battery charger. That's what happens when you have multiple cameras and your eyes and mind plays tricks on you. I had wasted one hour of the day already and time is of essence. Just when I shouted 'the devil is a liar!' and decided to use the electrical charger, I realized the charger was right in front of me.
By 6am I was in my sanctuary, doing what I love: cooking!
Today I was going to utilize my time efficiently. I was going to plate ALL of my culinary creations and complete my food photography before anyone arrives.
By 2pm, The crab penne rigati and cheese, rib roast, oxtails, pot roast and roast pork was completed. The ham never made it into the menu. Well guess what? I'll have that lovely ham on another day. In order to add that essence of love into my culinary creations, my mind, heart and soul needs to be rejuvenated and pumped. My energy was winding down and dinner was scheduled for 5:30pm.
I still had time to prepare the spinach pesto, hummus, green beans, broccoli, and kale salad which I gave  well deserved massage. Emma made the Taboulleh. It was d'luscious! Oh I thicken the sauces from all the wonderful juices release from the low and slow roasting of the meats. Talk about fantabulous!
Hummus


The hummus was so freaking good. Everyone said it tasted far better than any hummus they have ever had. They were all asking, "where is the pita bread?"
What pita bread? I can eat this all by itself. Did they think they were at a middle eastern restaurant? The french bread is in the kitchen. Help yourself and have a very Merry Christmas!
A special thanks to my Iphone for taking all these amazing photos. Can you believe it? After charging my Canon camera, my iphone decided to show who was boss for the day.
Be blessed!