Can someone just buy me a farm please!!!!!!!!!!!!
Eating fruits is like winning the lottery, especially when its been a while since I've indulged in such exotic decadence. Why am I so excited about fruits…about sweet sop? I must have been a farmer or the child of a farmer in a past life.
Sidebar: Check out my fingernails! No acrylic, no nail polish, no fake nails…and they are growing strong and mighty!
All the better to dig deep into the flesh of my flesh.
Healthy livity does that. When you support your body with nutrient dense food, it has no choice but to love you back.
Ok, back to the sweet sop. I'm feeling heavenly right now. My friend Steve gave me this sweet sop. I don't think he understands how much I appreciate him for sharing this sweet sop. I haven't had one of these in ages! This right here is gold. It really is.  Having a friend who knows how much I love earth foods and goes out on a limb to bring them to me, demonstrates a special kind of love.
When it comes to food, there is no scarcity in my life, but every time I eat, I gotta carry on like it's the first time I'm eating food. Why do I have to moan and groan and create a sexual experience when food excites me? I'm a lover of all things food.  It's just the foodie in me.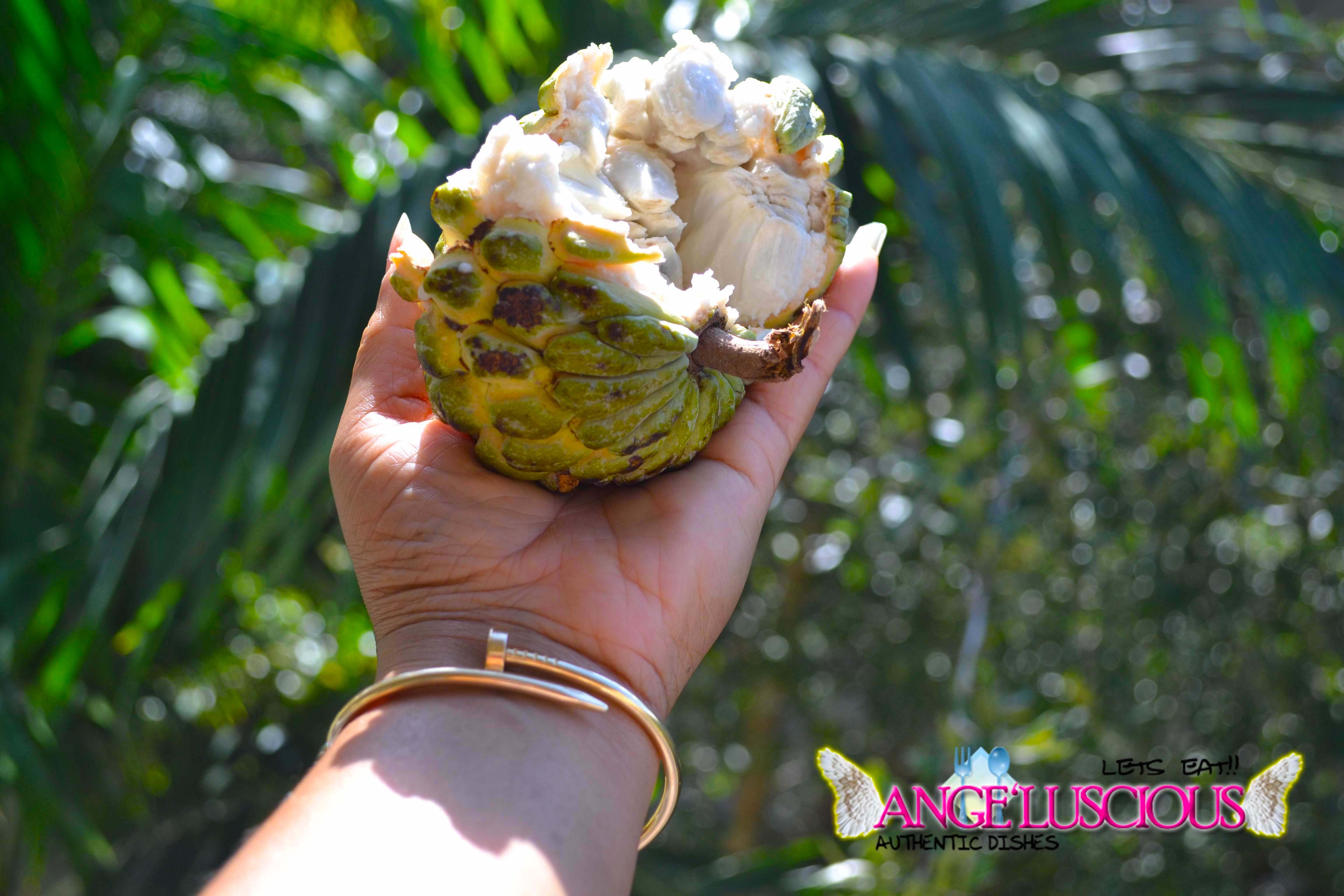 With the first bite, I sank my teeth into and made passionate love to this alluring sweet sop. It was sooo freaking orgasmic. The first bite took me straight back to Tivoli Gardens, Jamaica. Somebody on the block had a tree in their backyard and I ate tons of it. I swear, eating fruits is better than sex.
Yup, my greedy ass said it.
Eating sweet, flavorful fruits, that were allowed to mature the way God intended, harvested at its peak of maturity, without force ripening; without traveling on a truck or boat or plane,  for thousand of miles to a supermarket, is way better than sex. Before I devoured my sweet sop; before I savored the flavors, I had to stop and take a photo, for you. I felt compelled to share the insides; the flesh of this tropical fruit, to those who are unfamiliar with this variety of Godness.
Oh you just had to be there. You should have seen me sink my teeth in holy matrimony, into the creamy white piths that embodied the seeds, that will thrive and reproduce more of this Godness.
I even saved the seeds. I have never saved seeds in my life. I've eaten so many fruits and never thought of saving the seeds, but this sweet sop has made a deeper connection to my soul. I guess this was my aha moment. In the future, I sure will be planting and harvesting this bad boy on my own farm.  I am willing to learn and I may need your support but I will bring more sweet sop into fruition.
What seeds are you bringing to life?