I truly want to express my love for this dish in my Jamaican patois but will cease from doing so, only because the mass needs to understand exactly how amazingly d'luscious this culinary delight is.
First of all, I would like to know why nobody ever told me how wonderful shark is, was and ever will be?
Why?
How come nobody told me?
Thank God I'm adventurous; because if I was a picky eater, I still would not have been privy to this glorious fish.
I wasn't raised on shark. It's not popular in Jamaica. The fishes I'm familiar with are snapper, grouper, doctor, goat, parrot, butter, sprat etc.
Never ever in my childhood or adult life has anyone ever said, "Denise here, taste this shark."
Until….
I went to San Pedro Fish Market in California and saw shark. I have probably seen it many other times but had tunnel vision and never really paid attention. But a friend of mine told me that he always made it for his grandma.
"No one else in the family makes it for her," he says.
It doesn't really take much to convince me these days to try food. I'm a foodie, remember? I make food taste super awesome and visually appealing (pretty). It's my life, it's what I do. If there is something in your life that you think you don't like; I can cook it and make you love it. Once my creative juices begins to flow…it's on!

So, I went home and did some research on this shark. I don't know about you, but I research just about everything or things I'm not familiar with. I decided to season my shark with herbs. The steaks were thick so I seared them on each side for a few minutes, transferred them to a plate, then flaked it (picked it with a fork) just like I would with any other fish I chose to pair with ackee. I sauteed onions and tomatoes and returned the fish back to the pot with all the herbs.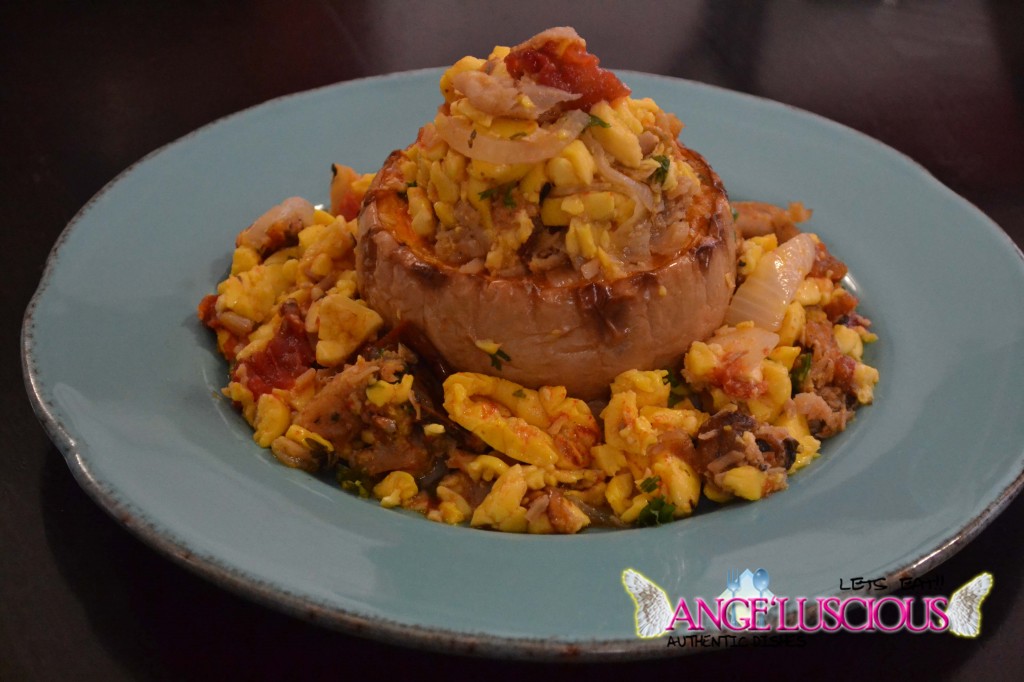 OMG is an understatement.
Kiss mi bloodcl$%&t teeth. Mi seh di ting maaaaaaddddd!!!!!!!!
I'm so upset that nobody told me. Makes me wish I had a Trini or Guyanese friend. Trinis be eating that bake and shark on the regular.
See this is why you got to widen your horizon people! Yes get out there. Don't be shy. Find friend of other cultures and learn and adapt some of their lifestlyes (especially when food is involved).
I must say, it's the BEST ackee and saltfish I have ever eaten in my life! The sweetness of roasted butternut squash complimented it well.  If you love your dumplings, go ahead, add it,  knock yourself out. Some nice soft yam would do it justice too.
As for me and my house, we will be eating more shark.