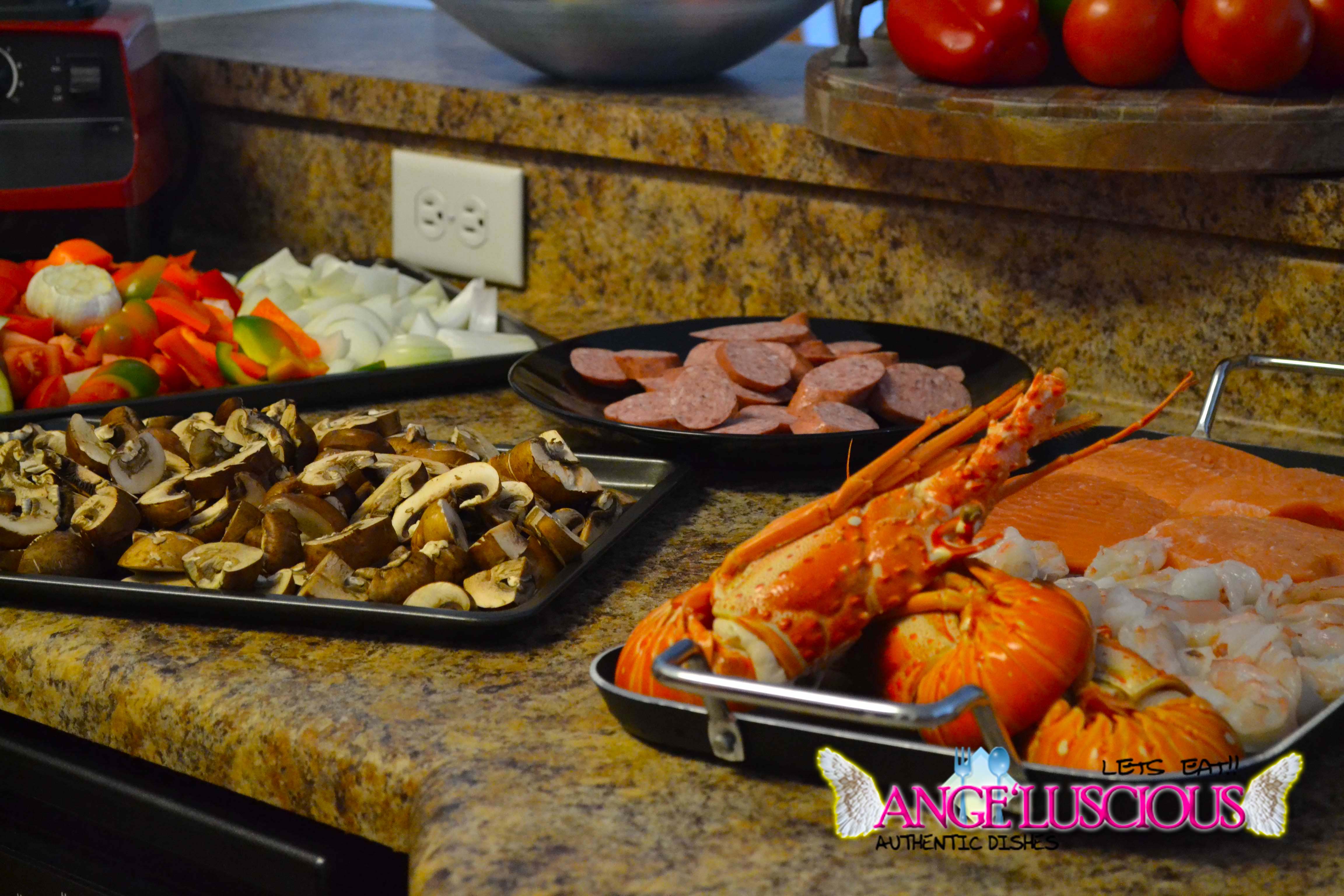 My body is an incredible and highly intelligent machine. I've been very obedient in listening to my body. It's one of the ways I practice self love and it serves me well. Lately, except for chicken and seafood, I haven't been able to tolerate commercial meats. There's a venue that I've been hearing about, that buys and sells directly from local farmers, which means that I will be paying them a visit and testing out their meats pretty soon.
In the meantime, I continue to cook meat for my family simply because I don't force them to eat the way I do. For the most part; since I'm the person preparing their meals, they are blessed to eat well balanced nutrient dense foods.  The only difference is that I nourish my body on a higher level than they do. I know they are paying attention, so I'm not in the least bit concerned about them. We are all unique individuals and our bodies are all wired differently, therefore I provide what their bodies need.

These spiny lobster caught my eye and I wasn't going to leave them alone. They're sweet and succulent and loves being basted with butter.
I had so much to do, but I wasn't about to leave the house until I finessed the heck outta this dish. I woke up early and went directly into the kitchen. Nothing was going to stop me today.  I didn't even prepare breakfast. I went straight into dinner mode. Seafood paella weighed heavily on my heart and I had to cook it. It was today or never.
The night before I went to bed, I made a checklist of all the ingredients that I would use. When I tell you that I eat, breathe and sleep food, I honestly do. Like, unless you are culinary inclined, who the heck thinks about food (in this capacity) for the next day? I mean, I go in deep thought, jotting down the ingredients for the sauce along with the various techniques that I would use to create a dish with bold flavors, that would be healthy and satiating. If you fail to plan, you plan to fail, therefore, If I don't grab my pen and paper, when I wake up in the morning, those thoughts and ideas will have vanished.
Sometimes I even wake up out of my sleep (there's always a pen and notepad on my nightstand) and I will write down whatever is on my mind. Sometimes it may be inspirational, other times it may be a message that I need to share or notes for my next cookbook. The thing is, whenever I am inspired, I HAVE to wake up, otherwise, anxiety get the best of me and sleep will not come. So that's another way I listen to and honor my body. Then like clockwork I return to sleep AND sleep like a baby too, because my mind is no longer racing. I've completed what my spirit has ordered me to do.
Anyways, all the ingredients that I had jotted down on my notepad was in my refrigerator, so this was a no brainer. I didn't have to make any extra trips to the supermarket.
As I basted the lobster with the juices from the vegetables and the sauce I had prepared, I simply knew in my heart that it would be fantabuluscious! Yes, it was well worth the waking up from my sleep and jotting down all my ingredients AND cutting up all my veggies AND laying them out on display AND taking all the extra steps to ensure that I created the bold flavors that only Angel'lusious can create. I finessed the phuck outta this one here. My soul and everyone else in the house soul, said "yes!"
I'm still contemplating. Should I share this recipe now or save it for my next cookbook?
What do you think?