Yes I made these pancakes from scratch. I don't do the boxed pancake thingy. No. Once upon a time…..a long long time ago… when I didn't know any better, I used to use the pancake from the box and I thought it was banging……..UNTIL …..I learned how to make it myself. It's so damn easy….I could kick myself for all the money I wasted on prepackaged products.  However, it's never to late to learn…..and so I've learned and now make them in all different   flavors.
I don't even buy that nasty pancake syrup either. And to think I loved it once upon a time. You just don't know what you're missing when you choose not to be adventurous….or even try new things for that matter. Thank God I have a culinary fascination. Thank God I choose to eat healthier. Thank God I'm curious to KNOW what's in my food.  My culinary passion has me floored over and over again. I mean….food is so freaking good! Who the heck wants to drink that awful bottle of corn syrup when you can cook your own fruits on the stove top and create a bad ass fruit compote? I'm so glad I know how to cook restaurant quality meals….and not just any restaurant…..FIVE STAR restaurant quality meals.
Well, these pancakes were so fluffy and d'luscious that I decided to share the recipe with you. The spinach  frittata and a few slices of bacon did it justice. I was doing the happy dance when I was done with this….actually no….I did the sleepy dance, yeah it took me straight to bed. But I ain't mad. I woke up and did it all over again.
Now, go ahead, scroll down….and enjoy that recipe…..because I damn sure did.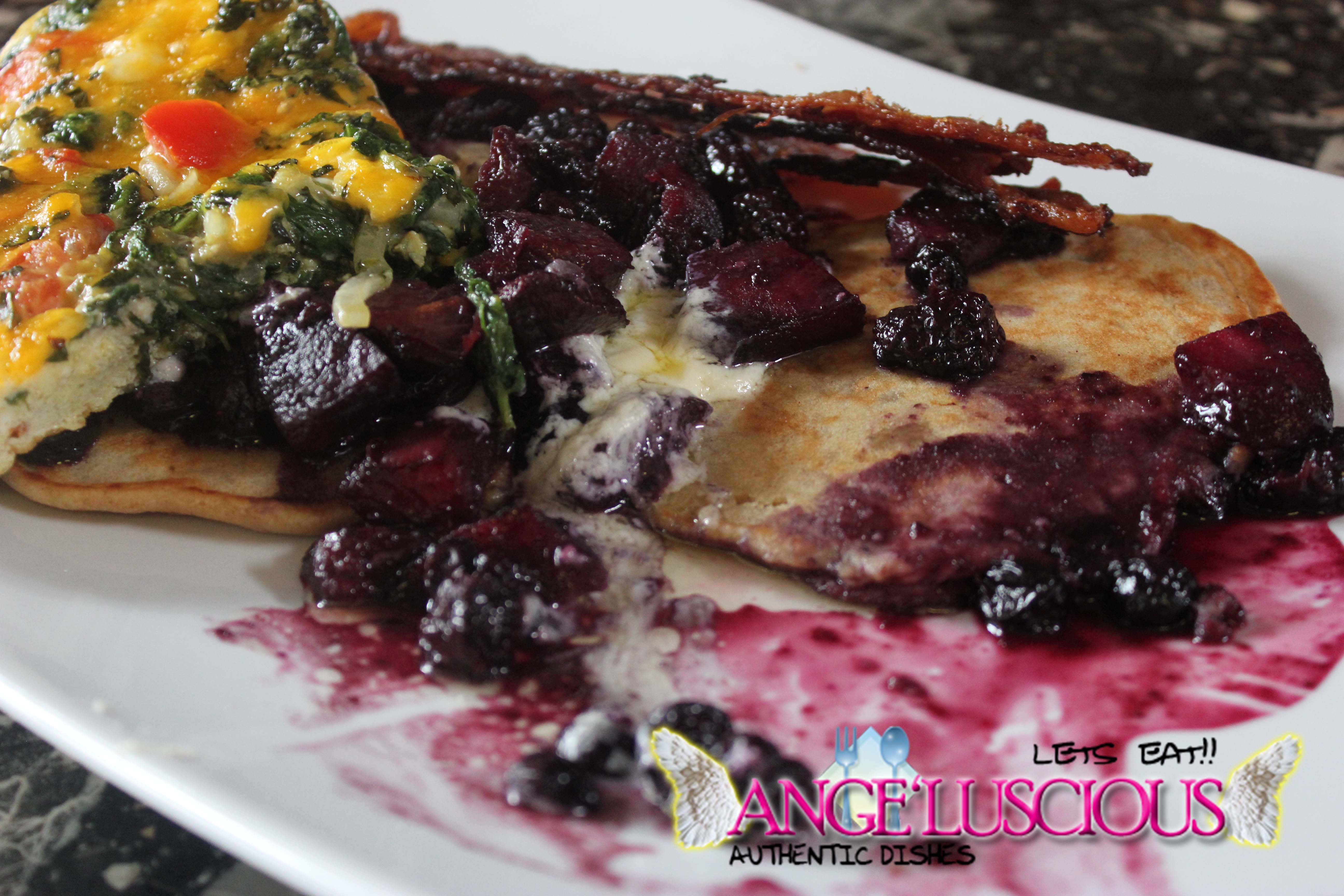 Sour cream banana pancake recipe
Ingredients:
3 cups flour
3 tspn aluminum free baking powder
1 tspn baking soda
1/3 cup sugar or less
1 tspn ground cinnamon
1 tspn grated nutmeg
1 tspn Pink Himalayan salt
1 cup of heavy cream
2 cups sour cream
1 cup water or your favorite nut milk (less if you want thicker pancakes)
4 eggs
1 tablespoon vanilla
1 ripe banana
Directions:
Mix dry ingredients and set aside
Combine egg with wet ingredients
Mash banana and add to wet ingredients
Combine dry and wet ingredients to form a batter
Place pancake griddle on stovetop on medium heat
Grease with butter
Ladle batter onto the grill
Flip pancake when bubbles begin to form
Cook pancake for another minute or two then remove from the griddle
Drizzle with maple syrup, honey or your favorite fruit compote.