It's Saturday, the traditional soup day in Jamaica. My grandma always made some kinda soup: chicken soup, beef soup, pepperpot soup, peas soup. Whatever she had in mind, we knew it would be some kinda soup. I now cook soup whenever I'm in the mood, even on Sundays… if I feel like it. Well, today SPICY MANISH WATER SOUP is on the menu in my home, because you done know, a two scotch bonnet pepper mi buss up in deh!
My pot of manish water was fully loaded with dumplings, sweet yams, sweet potatoes, turnips, carrots, corn, natural herbs and spices and lots of love. It's a pot full of  culinary harmony.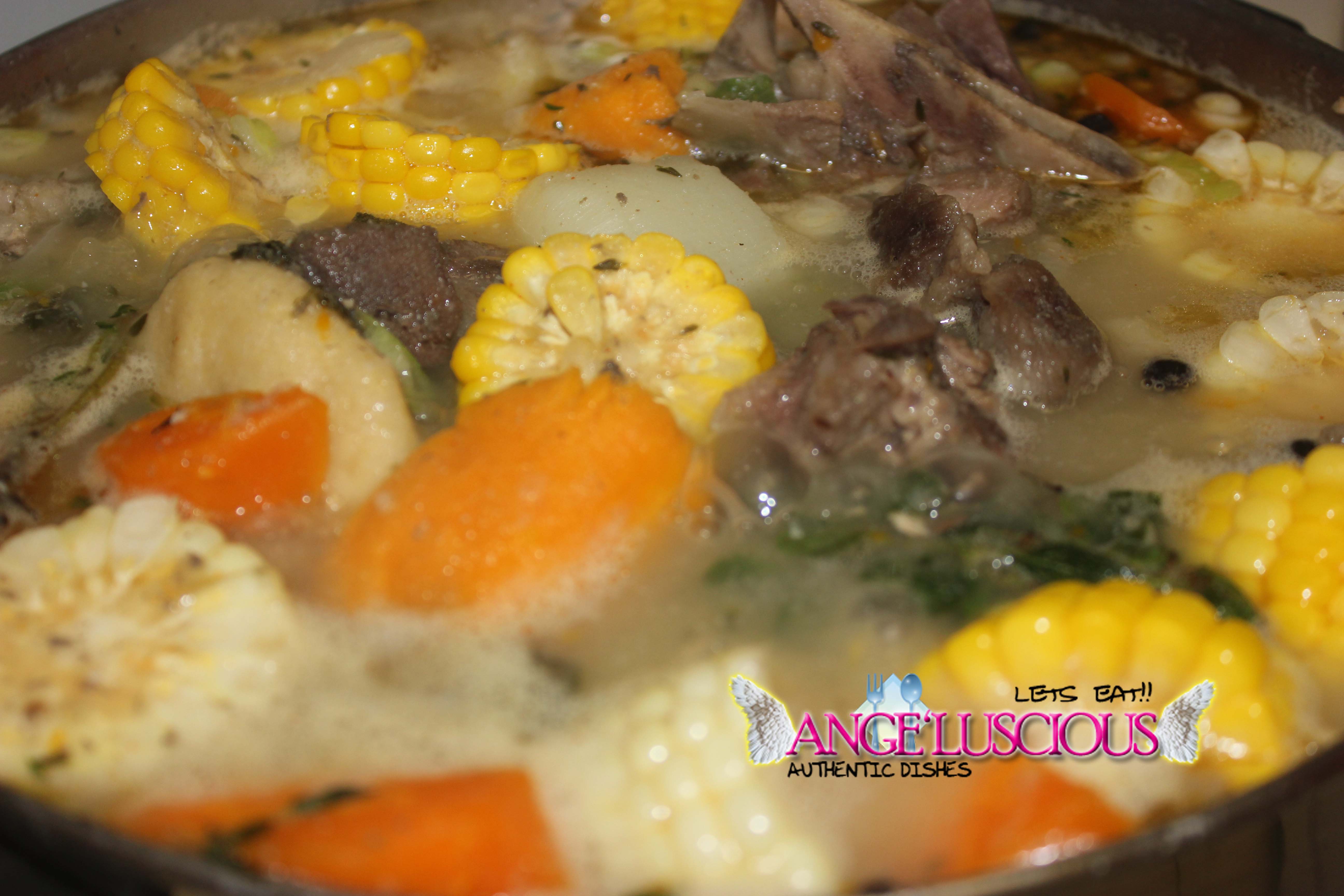 As the aromas filled the air, my son D'Angelo runs out of his room and into the kitchen and asked, "mom what are you cooking?"
I responded, "goat soup."
He asked, "Is that even possible?"
Most of the times, that I had prepared goat it was curried.  For a couple of years, I had been deterred from goat, because I had been conned one too many times by the vendors passing off other meats as goat. Now I've master the scent  and flavor of REAL goat. It's intense and has a "gamey" flavor which I love. I can't wait to roast an entire rack of goat. Yes…a rack of goat. That's gonna be totally awesome on the grill.

I dared not inform D'Angelo that this was a goat's head. He might not have been inclined to taste or eat it. He grabbed a spoon and tasted the soup and loved it. Good! He couldn't wait for me to share a bowl for him. Knowing me, he knew he had to wait for his blogger mom to take about 200 photos before anyone got a chance to sit at the table and eat. It was well worth the wait. My grandma, D'Angelo and I enjoyed every bit of this manish water. Maybe next week, I'll prepare a huge pot of peas soup or maybe pepperpot soup…who knows?